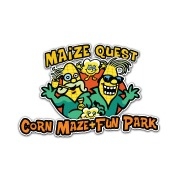 Maize Quest Fun Park
2885 New Park Road,New Park, PA 17352
Oh snap! "
Maize Quest Fun Park

" doesn't have any current deals at the moment. Check back soon, or share a deal now?
Additional Business Information
phones:
main: 717.382.4878
---
payment methods:
cash
,
discover
,
mastercard
,
visa
---
categories:
---
urls:
website: http://www.mazefunpark.com/

---
find us on:
---
video:
video >>
---

PAST COUPONS THAT MIGHT STILL WORK
by Amazon Local | Purchase by:

03/07/14

by Amazon Local | Purchase by:

11/04/13

by livingsocial | Purchase by:

09/23/13
Voucher

provided by
user reviews powered by
based on 4 reviews
11/08/12
Jen W.
This is a neat farm that caters to those seeking autumn entertainment. You can take a hayride out to the pumpkin patch to pick your very own pumpkin. Then...
10/27/11
Andy R.
This is the Disney of corn mazes - though "corn maze" does not do it justice. There are also all kinds of other fun things to do including other mazes,...
10/18/11
Suzanne M.
We had our daughter's birthday party here and it was a complete success! They thought of everything and had the kids well in line for the entire time! The...
click here to read more on yelp
tips from
total check-ins: 514

10/09/10
Tom F
Don't run in the maze. That's not a tip. It's a rule…

10/23/13
Preferred Traveler
Awesome annual themed mazes! Do not be that guy that ruins the beautiful maze for the rest of us. Food inside the park is cafeteria quality. Get something fresh at their store near the exit instead.
click here to read more on foursquare
user reviews
rating 4.3 out of 5
10/01/11
Timothy Edwards
Great day out with the family, just make sure you don't miss the apple cider doughnuts!
02/14/09
A Google User
Maize Quest is a lot of fun! In the summer, there are so many maizes, you can't help but to get lost! There are also fun things like pedal carts, digging for treasures and a really fun slide. In the winter, there is the really cool fun barn, which keeps the kids occupied for a couple of hours whi....
02/15/09
A Google User
Between my husband and I, we have been to every Maize Quest since its inception eleven years ago. And have been attending together since 2002. Love it, love it. Fun for the whole family, lots of different activities. And the price is right. Snacks, small gift shop, and facilities for all ages. ....
click here to read more on google places