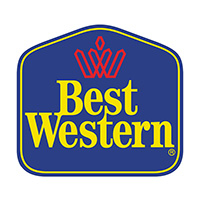 Best Western Maritime Inn
1001 N 14th Ave,Sturgeon Bay, WI 54235
BEST WESTERN MARITIME INN COUPONS IN 2015
Voucher

sold by

You get a voucher redeemable for $125 at Best Western Maritime Inn. Print out your voucher, or.. read more redeem on your phone with the Yelp app .
Additional Business Information
phones:
main: 920.743.7231
fax: 920.743.9341
---
business hours:
M-Su 24hr
---
categories:
---
urls:
website: http://www.bestwestern.com

---
find us on:
---
video:
video >>
user reviews powered by
based on 11 reviews
09/29/13
Gene T.
Stayed here 4 nights. The place was very clean, although our room had an unpleasant odor to it. The breakfast was alright for a freebee. The food was cold...
01/02/14
Wendy J.
Stayed here the night for a wedding. Good location. Friendly staff. Bar down the street that offers 10% off for guests. Pet friendly. Clean rooms. Their...
09/11/13
Rex L.
Stayed here 3 days for the Century Ride. Management very accomodating as they opened breakfast early (6:00 am) on Sunday for the bike riders staying there....
click here to read more on yelp
tips from
total check-ins: 383

12/10/11
Rachelle Gardner
Visit Cassie's room. She is hot!

11/04/13
Eric H.
WIFI is totally brutal! Good luck connecting to it. It is a piece....

01/07/12
Jon Farley
Not sure if this is a common issue at this hotel but none of us had hot water in the shower. It was lukewarm.
click here to read more on foursquare
user reviews
rating 3.8 out of 5
12/28/14
Heather Hermanson
we reserved for 2 nights. I asked for a couple extra pillows and was told that they don't have extras so my kids had to share. beds sucked, felt like sleeping on rocks. the breakfast sucked. I didn't get to eat. my hubby and kids had a bagel or waffle. the people were lazy and didn't fill anything ....
09/16/14
Marybeth Schuster
This is really an outdated facility. I will not stay here again. In addition, my husband had a nosebleed and ruined a pillow. One week after we checked out there was an additional $250 charge made to our account for alleged replacement costs. We were never told anything about this at check-out a....
09/10/14
linda valcq
Wonderful, staff is great, beds are comfy!
click here to read more on google places