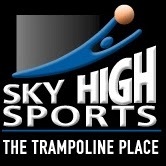 Sky High Sports
6424 Howard Street,Niles, IL 60714
Oh snap! "
Sky High Sports

" doesn't have any current deals at the moment. Check back soon, or share a deal now?
Additional Business Information
phones:
main: 847.801.5867
---
business hours:
M-Tu 11am-9pm, W 11am-5pm, Th Closed, F-Sa 11am-11pm, Su 11am-8pm (Hours vary on holidays & summer. Visit site for more info.)
---
categories:
entertainment
,
fitness & instruction
,
parks & adventures
,
party supplies
,
health and medical
,
gyms
---
urls:
website: http://www.jumpskyhigh.com

---
emails:
---
video:
video >>
---

PAST COUPONS THAT MIGHT STILL WORK
by Groupon | Purchase by:

10/19/14

by Groupon | Purchase by:

07/03/14

by Groupon | Purchase by:

10/17/13
Voucher

sold by

Voucher

sold by

Paris Bistro2835 Showplace Dr., Ste. 103, Naperville, IL, 60564

Voucher

provided by
user reviews powered by
based on 26 reviews
08/29/14
Lisa M.
Went to my first Airobics class last night and it was awesome. The facility is extremely clean, the staff is friendly and professional and the workout was...
12/18/13
Cindy R.
Let me preface that this was for a 10 year old's birthday party... The price, amenities, building, trampolines, ball pits, video games, etc.... fantastic....
09/21/13
Caroline G.
This was totally a great workout. Definitely a good groupon. And, while we were the only people there, until 20 minutes later and 1 other person showed up....
click here to read more on yelp
user reviews
rating 3.7 out of 5
06/01/14
A Google User
This place is fantastic and a fun way to get exercise. HOWEVER: there is one staff member who would wouldn't apply her job to off duty staff members. said off duty staff members would hang around the dodge ball court and talk to her which is fine, until they started whipping balls at children, holdi....
02/28/14
A Google User
Probably one of the worst experiences as a customer. When you first arrive the front desk is extremely unhelpful and rude. Second you have to jump barefoot and trampolines are filthy, probably cleaned once a month. The ground has crumbs and dirt all over it. They also have a sign that says NO REFUND....
08/23/13
A Google User
very low class place. the people at the front desk were very rude and all of the workers seemed bored and uninterested, and the ones i had encounters with were all rude and ignorant. not to mention the fact that you either buy a pair of their "grip socks" or you go barefoot. that is so disgusting yo....
click here to read more on google places