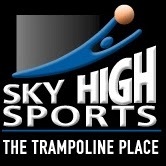 Sky High Sports
6424 Howard Street,Niles, IL 60714
SKY HIGH SPORTS COUPONS IN 2014
Voucher

sold by

Limit 1 per person, may buy 3 additional as gifts. Limit 4 per visit. Valid only for option and.. read more location purchased. Reservation required. Must sign waiver. Under 18 requires guardian signature. Private court option valid only at Naperville location. Not valid 11/27, 12/2412/26, 12/31, 4/5, 5/25, 7/4, and 9/7. Trampolines arouse adrenaline-fueled thrills by exploiting man's innate fear of losing his sunglasses. Dare to defy gravity with this Groupon. Choose from Five Options $11 for two hours of jump time, valid MondayThursday at the Naperville location ($20 value) $14 for two hours of jump time, valid FridaySunday at the Naperville location ($24 value) $99 for one hour of private court time for up to 30 people, valid at the Naperville location ($175 value) $11 for two hours of jump time, valid MondayThursday at the Niles location ($20 value) $14 for two hours of jump time, valid FridaySunday at the Niles location ($24 value)
Additional Business Information
phones:
main: 847.801.5867
---
business hours:
M 11am-9pm, Tu-Th 2pm-9pm, F-Sa 11am-11pm, Su 11am-8pm (Hours vary on holidays & summer. Visit site for more info.)
---
categories:
entertainment
,
fitness & instruction
,
parks & adventures
,
party supplies
,
health and medical
,
gyms
---
urls:
website: http://www.jumpskyhigh.com

---
emails:
---
video:
video >>
---

PAST COUPONS THAT MIGHT STILL WORK
by Groupon | Purchase by:

07/03/14

by Groupon | Purchase by:

10/17/13

by DoubleTakeDeals | Purchase by:

08/06/13
user reviews powered by
based on 20 reviews
07/29/13
Patrick L.
Fun, but... Be sure to call ahead and check to make sure there aren't any aerobics classes going on, otherwise your jumping will be severely limited. Last...
07/08/13
Jeff S.
Don't recall which family had the first BDay party at Sky High Sports this year (2013) from the Waters School Community, but having a BDay party here has...
05/12/13
Lindsey O.
My bf and I were born 3 days apart, and we decided to do something completely different this year for our 31st bdays. We both like to exercise, and the last...
click here to read more on yelp
user reviews
rating 3.7 out of 5
06/01/14
A Google User
This place is fantastic and a fun way to get exercise. HOWEVER: there is one staff member who would wouldn't apply her job to off duty staff members. said off duty staff members would hang around the dodge ball court and talk to her which is fine, until they started whipping balls at children, holdi....
02/28/14
A Google User
Probably one of the worst experiences as a customer. When you first arrive the front desk is extremely unhelpful and rude. Second you have to jump barefoot and trampolines are filthy, probably cleaned once a month. The ground has crumbs and dirt all over it. They also have a sign that says NO REFUND....
08/23/13
A Google User
very low class place. the people at the front desk were very rude and all of the workers seemed bored and uninterested, and the ones i had encounters with were all rude and ignorant. not to mention the fact that you either buy a pair of their "grip socks" or you go barefoot. that is so disgusting yo....
click here to read more on google places