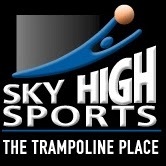 Sky High Sports
6424 Howard Street,Niles, IL 60714
Oh snap! "
Sky High Sports

" doesn't have any current deals at the moment. Check back soon, or share a deal now?
Additional Business Information
phones:
main: 847.801.5867
---
business hours:
M-Th 11am-9pm, F-Sa 11am-11pm, Su 11am-8pm (Hours vary on holidays & summer. Visit site for more info.)
---
categories:
entertainment
,
fitness & instruction
,
parks & adventures
,
party supplies
,
health and medical
,
gyms
---
urls:
website: http://www.jumpskyhigh.com

---
emails:
---
video:
video >>
---

PAST COUPONS THAT MIGHT STILL WORK
by Groupon | Purchase by:

07/03/14

by Groupon | Purchase by:

10/17/13

by DoubleTakeDeals | Purchase by:

08/06/13
user reviews powered by
based on 20 reviews
07/29/13
Patrick L.
Fun, but... Be sure to call ahead and check to make sure there aren't any aerobics classes going on, otherwise your jumping will be severely limited. Last...
07/08/13
Jeff S.
Don't recall which family had the first BDay party at Sky High Sports this year (2013) from the Waters School Community, but having a BDay party here has...
05/12/13
Lindsey O.
My bf and I were born 3 days apart, and we decided to do something completely different this year for our 31st bdays. We both like to exercise, and the last...
click here to read more on yelp
tips from
total check-ins: 1086

10/28/13
Liz C.
Bring your own grippy socks, buy there for $2, or go barefoot. We arrived at opening 11am on a monday. Well-staffed, pleasant, clean. But I can imagine its crazy on a weekend!!

02/17/13
Nicki C.
This place is a dump. They have 2 "monitors" for over 4 kids out on the trampolines. The trampoline springs are worn, the trampolines themselves are dirty with debris because they allow shoes on it

04/08/12
Lina J.
I love this place it's so fun
click here to read more on foursquare
user reviews
rating 4.1 out of 5
02/07/14
Emilia Angela Magdalena Tomera
Greatly disappointed. I can't believe such a business would rob me of my money. I've been waiting for my refund after being lied to about a Friday Special Event. 3 weeks have gone by and I'm still waiting for my money. Not to mention all my calls have been rejected. I wish I could give i....
03/03/14
Ian Harris
Attended a Birthday Party here on Sat. Kids love the jump. Parents love that kids get out and do something physical - especially in the winter. The party was okay, however there's some room for improvement on handling guests upon arrival. Coincidentally, we saw someone who was in our party and t....
08/10/13
Mia Sherin
I loved it! The trampolines were really fun and it was a great place to go with friends! The people who worked there were very nice and if you accidentally broke a rule they were not mean about it. Something that might be a nice addition is more places to sit.
click here to read more on google places