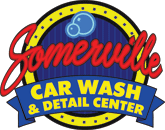 Somerville Car Wash and Detail Center
680 somerville ave.,somerville, MA 02143
Oh snap! "
Somerville Car Wash and Detail Center

" doesn't have any current deals at the moment. Check back soon, or share a deal now?
Additional Business Information
phones:
main: 617.625.9027
---
business hours:
M-W 8am-6pm, Th-Sa 7am-6pm, Su 8am-6pm
---
payment methods:
american express
,
cash
,
discover
,
mastercard
,
visa
---
categories:
---
urls:
website: http://www.seeyoushine.com/

---
emails:
---
find us on:
---
video:
video >>
user reviews powered by
based on 66 reviews
09/05/13
Leonard Daniel S.
Despite being cleaned last week, I went to get the full service (new to the area, so still trying out places) - I have a special paint, so needs to be hand...
07/11/13
Brian H.
I just have to step in here and update my previous review. Mere hours after I left it, the car wash's manager Craig reached out to me on Yelp with a message...
06/10/13
Nancy N.
Pretty good customer service. Let's just hope they can remove the tree sap on my car. Not bad, pretty standard pricing. They did remove my tree saps but...
click here to read more on yelp
tips from
total check-ins: 802

07/31/11
Corey Bollier
These guys do an amazing job for what you pay, totally worth it! Do not forget to tip! These guys work hard!

04/09/12
Justin Martini
Stop here next time you get egged by a bunch of punk a$$ kids in Melrose

03/18/12
Andrea Shapiro
Don't use the self-serve wash. $3 for four minutes - even the smallest car takes 12 minutes to wash. Rip-off!!!!!
click here to read more on foursquare
user reviews
01/26/14
Muhammad Al-Qaisi
On busy days they run the conveyer quicker leaving your car dirty especially the undercarriage. Not rinsing the salt on the undercarriage is devastating for the body. Today the undercarriage of my car left this wash looking like it was not touched. They tried hard to deny their shortcoming. After as....
05/19/14
Jonathan Herbert
Exterior wash through the machine was pretty standard, but the interior express cleaning was outstanding. Don't normally leave reviews but these guys went above and beyond.
10/04/09
A Google User
The regular car wash was OK, didn't really clean my car too well, but the interior cleaning was great. My car was a mess of dog hair, smoke smell and stains. When I went to pick up my car it was spotless. all the stains were out of the seats, the smell gone, everything had been armored all and there....
click here to read more on google places