Hours
M-F 8am-5pm, Sa-Su Closed (Call Now to Make an Appointment)
Payment Options
American Express

,
Cash

,
Check

,
Financing

,
MasterCard

,
Visa
About 6th Avenue Periodontics & Implant Dentistry
6th Avenue Periodontics and Implant Dentistry is a modern dental care provider that has been offering high-end yet affordable services in San Diego for the past 12 years. Our paperless office embraces modern technology, and we pride ourselves on making your experience here as comfortable and simple as possible. Dr. Niakiani is a specialist in periodontics and implantology. Our practice specializes in conservative treatment of gum disease, cosmetic procedures to aesthetically enhance your smile, and dental implants that can replace single or multiple missing teeth. We also diagnose and treat oral pathology. Although no one likes to go to the doctor or dentist, we strive to make your visits with us as comfortable and pleasant as possible. We strongly believe that our patient's comfort is an important part of quality dental care. Dr. Niakiani believes that your right to choose a dentist is an important freedom. We work closely with your dentist, but a referral by a dentist is not required to visit our office. We also welcome referrals from patients and friends of the practice.We are extraordinarily proud of our staff, which is comprised of caring and dedicated professionals. They ensure that the patient's surgical and administrative needs are met as efficiently and smoothly as possible.Our goal is to make you feel comfortable and relaxed. We are here to listen to your questions and concerns and to help provide solutions leading to your better health. Please don't hesitate to e-mail us at info2@6thaveperio.com if you have any questions regarding your care, or call us at (619) 702-7113. Our fax number is (619) 702-7114
6th Avenue Periodontics & Implant Dentistry

Deals in San Diego, CA 92101
78% Off
Invisalign or Dental Packages @ 6th Avenue Periodontics & Implant Dentistry (Up to78% Off). 3 Options Available.
Similar Deals Near You
75% Off
Toe-Fungus-Removal Treatment for One or Two Feet at University Foot and Ankle Specialists (Up to 75% Off)
Top Deals Nearby
86% Off
One-Month Trial Memberships at F45 San Diego Downtown (Up to 86% Off)
Nearby • San Diego

• 0.21 mi
96% Off
San Diego Beach, Sunset, or Attractions Photo Shoot at San Diego Vacation Photography (Up to 96% Off)
Nearby • San Diego

• 0.32 mi
83% Off
Eyelash Extensions with 30, 45, or 60 Lashes Per Eye at Lashed by Cristina (Up to 83% Off)
Nearby • San Diego

• 0.4 mi
80% Off
1 or 2 Men's Haircuts with Shampoo from Mae Bovenzi at Salon 2nd & G (Up to 80% Off). Two Options Available.
Nearby • San Diego

• 0.4 mi
61% Off
One or Three 60-Minute Reflexology Sessions at San Diego Massage Service (Up to 61% Off)
Nearby • San Diego

• 0.0 mi
1111 6th Ave # 102
San Diego
,
CA
92101
Hours
M-F 8am-5pm, Sa-Su Closed (Call Now to Make an Appointment)
Payment Options
American Express

,
Cash

,
Check

,
Financing

,
MasterCard

,
Visa
About 6th Avenue Periodontics & Implant Dentistry
6th Avenue Periodontics and Implant Dentistry is a modern dental care provider that has been offering high-end yet affordable services in San Diego for the past 12 years. Our paperless office embraces modern technology, and we pride ourselves on making your experience here as comfortable and simple as possible. Dr. Niakiani is a specialist in periodontics and implantology. Our practice specializes in conservative treatment of gum disease, cosmetic procedures to aesthetically enhance your smile, and dental implants that can replace single or multiple missing teeth. We also diagnose and treat oral pathology. Although no one likes to go to the doctor or dentist, we strive to make your visits with us as comfortable and pleasant as possible. We strongly believe that our patient's comfort is an important part of quality dental care. Dr. Niakiani believes that your right to choose a dentist is an important freedom. We work closely with your dentist, but a referral by a dentist is not required to visit our office. We also welcome referrals from patients and friends of the practice.We are extraordinarily proud of our staff, which is comprised of caring and dedicated professionals. They ensure that the patient's surgical and administrative needs are met as efficiently and smoothly as possible.Our goal is to make you feel comfortable and relaxed. We are here to listen to your questions and concerns and to help provide solutions leading to your better health. Please don't hesitate to e-mail us at info2@6thaveperio.com if you have any questions regarding your care, or call us at (619) 702-7113. Our fax number is (619) 702-7114
Images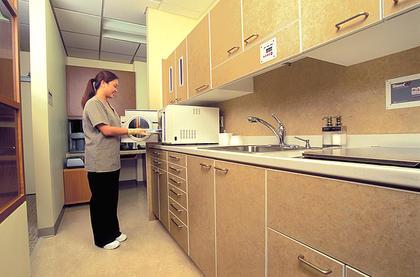 Videos