300 Nickel St. #12
Broomfield
,
CO
80020
Hours
M Closed, Tu-F 9am-6pm, Sa 9am-3pm, Su Closed
Categories
Appliances & Repair

,
Home & Garden
Payment Options
American Express

,
Cash

,
Check

,
Discover

,
MasterCard

,
Visa
About Broomfield Vacuum Center
Broomfield Vacuum Center has been delivering quality vacuums and repair services to Arvada and the Denver area for 40 years. When you come to the Barhite family owned and operated vacuum store we will help to find the best vacuum for you and educate you so you can make a decision with confidence. You can try the vacuums in our store instead of picking up a vacuum in a box to ensure that you'll find the vacuum perfectly suited to your lifestyle and budget. We are staffed with highly trained technicians with long history in the vacuum industry. So, if we can't fix your vacuum, it probably can't be fixed! We are your full service vacuum store. We repair most makes & models of sewing machines, vacuums and shampooers. We always start with a free estimate to let you know what
Broomfield Vacuum Center

Deals in Broomfield, CO 80020Sign up to get alerts as soon as new deals are found.
Top Deals Nearby
52% Off
One 60- or 90-Minute Custom Massage at Simply Shalom Holistic Healing (Up to 52% Off)
Nearby • Broomfield

• 0.6 mi
21% Off
60- or 90-Minute Full-Body Massage with Hot Stones at Lotus Massage Center (Up to 21% Off)
Nearby • Broomfield

• 0.66 mi
50% Off
World Cuisine Takeout and Dine-In at Roots (Up to 50% Off). Three Options Available.
Nearby • Broomfield

• 0.8 mi
85% Off
Laser Hair Removal Treatments at Hair To Bare (Up to 85% Off). Five Options Available.
Nearby • Broomfield

• 0.8 mi
91% Off
Facial Treatments at The Natural Place (Up to 91% Off). 37 Options Available.
Nearby • Broomfield

• 1.71 mi
300 Nickel St. #12
Broomfield
,
CO
80020
Hours
M Closed, Tu-F 9am-6pm, Sa 9am-3pm, Su Closed
Categories
Appliances & Repair

,
Home & Garden
Payment Options
American Express

,
Cash

,
Check

,
Discover

,
MasterCard

,
Visa
About Broomfield Vacuum Center
Broomfield Vacuum Center has been delivering quality vacuums and repair services to Arvada and the Denver area for 40 years. When you come to the Barhite family owned and operated vacuum store we will help to find the best vacuum for you and educate you so you can make a decision with confidence. You can try the vacuums in our store instead of picking up a vacuum in a box to ensure that you'll find the vacuum perfectly suited to your lifestyle and budget. We are staffed with highly trained technicians with long history in the vacuum industry. So, if we can't fix your vacuum, it probably can't be fixed! We are your full service vacuum store. We repair most makes & models of sewing machines, vacuums and shampooers. We always start with a free estimate to let you know what
Images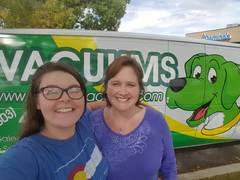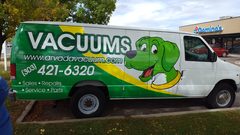 Videos