85-471 Farrington Hwy
Waianae
,
HI
96792
Categories
Travel & Hotels

,
Professional Services
Contact
palani@eowaianaetours.com
Payment Options
American Express

,
Cash

,
Discover

,
MasterCard

,
Visa
Get lost in the natural wonders that lie just off Hawaii's Oahu coast at EŌ Wai'anae Tours. Residents and tourists alike can take advantage of their unique catamaran tours, featuring breathtaking views of the water and exciting encounters with dolphins and other sea creatures. This family owned and operated catamaran tour service takes pride in exceeding the expectations of all their guests and helping them truly experience the paradise of the island. Trust this team to ensure your Hawaiian adventure is complete and to help create a memorable experience for you and your family. Their experienced staff will guide you through the waters of the West side of Oahu, where marine life is abundant and vibrant. Friends and family will be able to spot everything from whales breaching to tropical fish darting underneath the water. Their team is so confident that you'll see countless sea creatures that they'll book you another tour for free if you don't happen to see any dolphins while you're out. Fully immerse yourself in the experience and the water by snorkeling, kayaking, and paddle boarding on the open ocean. No need to worry about bringing your own food. The tour includes a fresh lunch, snacks, and beverages to be savored throughout the trip. Snorkeling gear and diving equipment are also provided. Set sail on your next Hawaiian adventure at EŌ Wai'anae Tours. Catamaran tours are offered in the morning and afternoon for individuals, couples, and small groups. Call their team today at (808) 699-5910 to book or visit them online for more information.
EŌ Wai'anae Tours

Deals in Waianae, HI 96792Sign up to get alerts as soon as new deals are found.

85-471 Farrington Hwy

Waianae

,

HI

96792

Categories

Travel & Hotels

,

Professional Services

Contact

palani@eowaianaetours.com

Payment Options

American Express

,

Cash

,

Discover

,

MasterCard

,

Visa

Get lost in the natural wonders that lie just off Hawaii's Oahu coast at EŌ Wai'anae Tours. Residents and tourists alike can take advantage of their unique catamaran tours, featuring breathtaking views of the water and exciting encounters with dolphins and other sea creatures. This family owned and operated catamaran tour service takes pride in exceeding the expectations of all their guests and helping them truly experience the paradise of the island. Trust this team to ensure your Hawaiian adventure is complete and to help create a memorable experience for you and your family. Their experienced staff will guide you through the waters of the West side of Oahu, where marine life is abundant and vibrant. Friends and family will be able to spot everything from whales breaching to tropical fish darting underneath the water. Their team is so confident that you'll see countless sea creatures that they'll book you another tour for free if you don't happen to see any dolphins while you're out. Fully immerse yourself in the experience and the water by snorkeling, kayaking, and paddle boarding on the open ocean. No need to worry about bringing your own food. The tour includes a fresh lunch, snacks, and beverages to be savored throughout the trip. Snorkeling gear and diving equipment are also provided. Set sail on your next Hawaiian adventure at EŌ Wai'anae Tours. Catamaran tours are offered in the morning and afternoon for individuals, couples, and small groups. Call their team today at (808) 699-5910 to book or visit them online for more information.

Images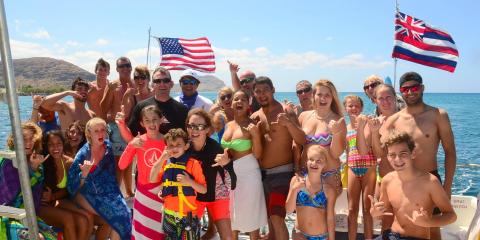 Videos