63 1/2 Glen Street
Glen Cove
,
NY
11542
Hours
M-F 9am-5pm, Sa-Su Closed
Categories
Printing Services

,
Professional Services
Minuteman Press is Glen Cove's most experienced printer. We have been servicing Glen Cove, Roslyn, Greenvale, Roslyn Heights, Northwestern Nassau and Queens for over 35 years! We offer Full Color Offset, Digital Color Printing, Large Format Printing, High Speed Copying, Graphic Design, Mailing Services and much more.We have been in Glen Cove for over 35 years starting as a quick print shop, where you could literally wait while we printed up a simple order or made copies from your originals and we have grown into a full service printing, marketing and design company. We do everything from basic printing - letterheads, business cards, and business forms, to marketing materials like flyers, brochures, postcards, and catalogs. Wide format graphics are also our specialty. This includes posters, banners, window clings, vehicle lettering and even vehicle wraps. We even do packaging and shipping. See what we mean by a full service service printing, marketing and design company?Minuteman Press is not just ink on paper. We offer a complete line of promotional products and custom apparel. We are your number one source for traditional items like business stationery, however printing logos on pens, USB drives, coffee mugs, sticky notes, calendars and more has never been easier and more effective in promoting your brand.Over the years we have earned your business by providing a degree of professional, personalized service. The fact that we are a "neighborhood" company makes us unique. We have a fundamental understanding of our customer's needs and business and are easily accessible to them. We strive to be a resource, making our customers stand out in a competitive market. Our customer's success is our success.Please call us at 516-676-7718 or email us at info@mmpgc.com and our wonderful staff of dedicated printing experts will be glad to assist you with your printing needs. Please browse our site and use our NEW online designer, upload your art files or request a quote.Serving Nassau County and the Long Island, New York Metropolitan Area including but not limited to Glen Cove • Sea Cliff • Glenwood Landing • Glen Head • Roslyn • Roslyn Heights • Bayville • Oyster Bay • Jericho • Locust Valley • Greenvale • East Hills • Mill Neck • Brookville • Old Westbury • Muttontown • East NorwichPromo ProductsFollow us on Social MediaGoogle Reviews
Minuteman Press

Deals in Glen Cove, NY 11542Sign up to get alerts as soon as new deals are found.
Top Deals Nearby
61% Off
One 60-Minute Aromatherapy Massage with Hot Stones for One or Two at Foot Kiosk (Up to 61% Off)
Nearby • Port Washington

• 3.75 mi
67% Off
One or Three IPL Photofacial Sessions at Beautyfluff Cosmetics and Spa (Up to 67% Off)
Nearby • Port Washington

• 3.92 mi
77% Off
Wash and Blowout with Haircut or Style, Brazilian Blowout, or Root Touchup at K One Hair Salon (Up to 77% Off)
Nearby • Port Washington

• 4.11 mi
38% Off
One, Three, or Five Salt Cave Sessions at Port Salt Cave (Up to 38% Off)
Nearby • Port Washington

• 4.51 mi
63 1/2 Glen Street
Glen Cove
,
NY
11542
Hours
M-F 9am-5pm, Sa-Su Closed
Categories
Printing Services

,
Professional Services
Minuteman Press is Glen Cove's most experienced printer. We have been servicing Glen Cove, Roslyn, Greenvale, Roslyn Heights, Northwestern Nassau and Queens for over 35 years! We offer Full Color Offset, Digital Color Printing, Large Format Printing, High Speed Copying, Graphic Design, Mailing Services and much more.We have been in Glen Cove for over 35 years starting as a quick print shop, where you could literally wait while we printed up a simple order or made copies from your originals and we have grown into a full service printing, marketing and design company. We do everything from basic printing - letterheads, business cards, and business forms, to marketing materials like flyers, brochures, postcards, and catalogs. Wide format graphics are also our specialty. This includes posters, banners, window clings, vehicle lettering and even vehicle wraps. We even do packaging and shipping. See what we mean by a full service service printing, marketing and design company?Minuteman Press is not just ink on paper. We offer a complete line of promotional products and custom apparel. We are your number one source for traditional items like business stationery, however printing logos on pens, USB drives, coffee mugs, sticky notes, calendars and more has never been easier and more effective in promoting your brand.Over the years we have earned your business by providing a degree of professional, personalized service. The fact that we are a "neighborhood" company makes us unique. We have a fundamental understanding of our customer's needs and business and are easily accessible to them. We strive to be a resource, making our customers stand out in a competitive market. Our customer's success is our success.Please call us at 516-676-7718 or email us at info@mmpgc.com and our wonderful staff of dedicated printing experts will be glad to assist you with your printing needs. Please browse our site and use our NEW online designer, upload your art files or request a quote.Serving Nassau County and the Long Island, New York Metropolitan Area including but not limited to Glen Cove • Sea Cliff • Glenwood Landing • Glen Head • Roslyn • Roslyn Heights • Bayville • Oyster Bay • Jericho • Locust Valley • Greenvale • East Hills • Mill Neck • Brookville • Old Westbury • Muttontown • East NorwichPromo ProductsFollow us on Social MediaGoogle Reviews
Images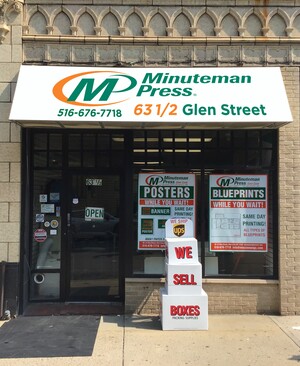 Videos