3000 Hempstead Tpk
Levittown
,
NY
11756
Hours
M-F 9am-5:30pm, Sa-Su Closed
Categories
Printing Services

,
Professional Services
Contact
mlevy@minutemanpress.com

,
eileena@minutemanpress.com

,
charliek@minutemanpress.com
Welcome to the NEW Minuteman Press Levittown! As of November 7th, 2013 Michael Levy purchased the Minuteman Press franchise in Levittown, NY. After 35 successful years Stave Haller and Charlie Kick have sold the business to Michael Levy. Michael has been an entrepreneur for 25 years and this is his latest venture coming from the IT world consulting for numerous small businesses on Long Island, with most of his previous experience being in the printing industry.Minuteman Press Levittown (MMPL) is a diversified up-to-date print shop. MMPL can output digitally, in full color or black and white, using your digital files or our in-house created graphic files.One of the major directions Michael will be taking MMPL is in the Technology area of Printing. MMPL has already introduced 3D Printing as one of its newest offerings. Come see the fascinating new technology live and in person, as the 3D printer runs right in the lobby of the store. In addition MMPL is a full service printing, marketing design Company, that offers all types of business service such as advertising, printing, direct mail, EDDM (Every Door Direct Mail - no lists) as well as WEB DEVELOPMENT and DIGITAL MARKETING. MMPL can design and print anything to help your business grow including websites and social media pages.MMPL also offers over 500,000 advertising specialties to help promote your business. Quality, service and an aim to please are our goals. We know you will enjoy doing business with us, so why not give us a try!Order online, right here, for the do-it yourselfers or let us help you with all your printing and marketing needs. MMPL has over 100 years' experience combined to help with any aspect of your business needs. Let us know how we can help you today! Minuteman Press Levittown Social Media Sites New Ownership Press Release
Minuteman Press

Deals in Levittown, NY 11756Sign up to get alerts as soon as new deals are found.
Top Deals Nearby
85% Off
Three or Five Muay Thai Kickboxing Classes with Gloves Included at Rebel Thaiboxing (Up to 85% Off)
Nearby • East Meadow

• 1.24 mi
76% Off
Spider Vein, Sun Spot, or Skin Tag Removal Session at Laser Now (Up to 76% Off)
Nearby • East Meadow

• 1.23 mi
84% Off
Glasses and Optional Exam at Hicksville Optical (84% Off). Two Options Available.
Nearby • Hicksville

• 2.76 mi
89% Off
Three or Six Sessions of Laser Hair Removal at Medwell Spa (Up to 89% Off)
Nearby • Farmingdale

• 2.84 mi
79% Off
Exam, X-Ray, and Cleaning for an Adult or Child at Gitlin Dental Group (Up to 79% Off)
Nearby • Bethpage

• 1.94 mi
3000 Hempstead Tpk
Levittown
,
NY
11756
Hours
M-F 9am-5:30pm, Sa-Su Closed
Categories
Printing Services

,
Professional Services
Contact
mlevy@minutemanpress.com

,
eileena@minutemanpress.com

,
charliek@minutemanpress.com
Welcome to the NEW Minuteman Press Levittown! As of November 7th, 2013 Michael Levy purchased the Minuteman Press franchise in Levittown, NY. After 35 successful years Stave Haller and Charlie Kick have sold the business to Michael Levy. Michael has been an entrepreneur for 25 years and this is his latest venture coming from the IT world consulting for numerous small businesses on Long Island, with most of his previous experience being in the printing industry.Minuteman Press Levittown (MMPL) is a diversified up-to-date print shop. MMPL can output digitally, in full color or black and white, using your digital files or our in-house created graphic files.One of the major directions Michael will be taking MMPL is in the Technology area of Printing. MMPL has already introduced 3D Printing as one of its newest offerings. Come see the fascinating new technology live and in person, as the 3D printer runs right in the lobby of the store. In addition MMPL is a full service printing, marketing design Company, that offers all types of business service such as advertising, printing, direct mail, EDDM (Every Door Direct Mail - no lists) as well as WEB DEVELOPMENT and DIGITAL MARKETING. MMPL can design and print anything to help your business grow including websites and social media pages.MMPL also offers over 500,000 advertising specialties to help promote your business. Quality, service and an aim to please are our goals. We know you will enjoy doing business with us, so why not give us a try!Order online, right here, for the do-it yourselfers or let us help you with all your printing and marketing needs. MMPL has over 100 years' experience combined to help with any aspect of your business needs. Let us know how we can help you today! Minuteman Press Levittown Social Media Sites New Ownership Press Release
Images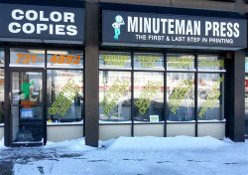 Videos